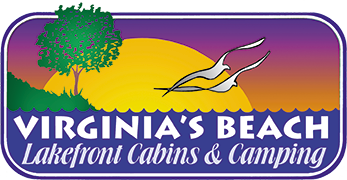 At Virginia's Beach our goal is to provide a peaceful family environment and to encourage families, individuals, couples or groups to appreciate and enjoy Lake Erie and our lakefront atmosphere.

While we do not have organized activities, our location and facilities provide a unique opportunity to experience beautiful Lake Erie and the surrounding area. In addition to the obvious time honored activities of enjoying the company of family and friends while experiencing beauty of the great outdoors, we have listed some of the activities available at Virginia's Beach:
Beach Hiking
With our 1100 feet of frontage and easy access, you can explore miles of great lakes beach. Be prepared to get your feet wet in some places, that's part of the fun!

Visit nearby lake front Racoon Park which features a beach (usually with more sand than ours), picnic pavilion, restrooms, and a playground.

Remember to bring a bag since the kids (and adults) will want to collect beach glass, tiny shells, driftwood and beautiful pebbles in your adventure.

There are also many places to enjoy a picnic lunch or a refreshing swim.
Canoeing & Kayaking
Rent a kayak or fishing boat, or launch your canoe or kayak right off our beach. Explore the beautiful, unlimited shoreline and secluded beaches, and take advantage of our excellent fishing. Relax with a peaceful early morning or sunset journey.
Boating & Jet Skiing
Take a cruise or pull a skier or tube rider along the shoreline, enjoy the sunrise or sunset on the Lake or simply anchor and relax on a secluded beach. Although Lake Erie is great for boating, care must be taken to get out if a wind change would cause large waves or unsafe conditions.

Because of the fluctuation in the Lake's water level, we cannot guarantee that our open water ramp will be suitable to launch your boat. We recommend that you have a full size 4 wheel drive truck and a low riding trailer. We do not recommend the ramp for boats longer than 18 ft. Additional launching facilities are nearby at Walnut Creek Access, Conneaut, Ohio harbor, and Elk Creek access.

Lake Erie is great for jet skiing. You can take a cruise when the Lake is smooth or feel the rush of jumping waves when conditions are rough. Click here to learn more about the Lake.
Swimming
The lake bottom in front of our property is smooth, rock and sand, and declines very gently allowing very safe and comfortable swimming. The water is normally very clear and clean, depending on the wave conditions, and is usually warm enough for swimming from June to September. There are no lifeguards, so swimming is at your own risk. Always watch children when they are in the water.

Visit nearby lake front Racoon Park which features a beach (usually with more sand than ours), picnic pavilion, restrooms, and a playground.

See our beach page for more information.
Playground
Our playground is available for use from 8:00AM to dark. Children 10 and under must be accompanied by a parent. Please, no pets at the playground.
Arts and Crafts
Kids love making souvenir crafts to remember their visit to Lake Erie. Popular activities are rock painting and creating items with beach glass, drift wood, shells and pebbles.

Craft Supplies to Bring:
- Paints and brushes for beach rock art.
- Picture frames and glue for attaching driftwood, beach glass, pebbles and small shells.
- Glass bottles or containers to display beach glass, pebbles and shells.
Fishing
Virginia's Beach is right in the middle of one of the greatest places to fish in the country! Lake Erie is the shallowest and warmest of the Great Lakes which allows for outstanding production of Walleye, Perch, Bass and Steelhead. We are located in the central basin, which is deeper than the western basin and generally produces larger fish. Lake fishing for Perch, Walleye, Bass and Steelhead can be done off shore, but fishing from a boat is usually more productive. Visit our fishing page for more information.

Our catch and release fishing pond is available for easy and relaxing use.

Our private ramp is available to launch boats up to 19ft in length. Conneaut, Ohio harbor is less than 10 miles away to launch larger boats or lease dockage.

There are also many places to enjoy a picnic lunch or a refreshing swim.

Rent one of our fishing boats for off shore fishing!
Fishing Links
Take a Fishing Charter
Eliminate the "learning curve" of Walleye and Perch fishing by reserving a day with one of our experienced local charter captains.

We recommend Northern Skies Charter Fishing - 440-599-8273

You may also take a trip on a "head boat". This is a larger group charter boat that is less expensive and requires less of a time commitment than a standard charter.

Click here to learn about Edward John, Head Boat.
Take a Guided Lake Boat Tour
Experience the beauty and history of the Lake through Presque Isle Boat Tours.
Bicycling and Walking
We have over ¾ mile of roads available for use on our 46 acre mostly wooded property. In addition, because we are located in a very rural area many roads are lightly traveled and well suited to bicycling and walking. Click here for a map of the local area.

Use our path to Old Lake Road and go West to Raccoon Park, or take Ellis Road through the state game lands and loop back on Rudd Road. Go East on Old Lake Road to the Tasty Twist ice cream stand. Visit Peggy Gray's Candy store at the intersection of Holliday and Old Lake roads for locally made candy and gifts. Ask to see their mini museum of local history, including artifacts from the Woake Hanne Lodge, which was located in the building that our office is in. From our Holliday Road entrance, go east to Holliday's Vegetable Stand for some great sweet corn or continue on to Ables Road for a relaxing ride over Crooked Creek and through the woods to Route 5.
Enjoy the Sunset on the Lake
Because our shoreline faces the northwest we have an incredible view of the sunset. Rated #2 behind Hawaii by National Geographic!
Golfing
There are several excellent golf courses within 10 miles of the campground. For a complete list visit: The Directory of Erie Golf Courses
Explore the Lake
Experience the beauty and history of the Lake through Presque Isle Boat Tours.
Visit Erie Bluffs State Park
The newest Pennsylvania State Park, Erie Bluffs State Park is 540 acres of Lake Erie shoreline in western Erie County, eight miles east of Virginia's Beach. It is the largest undeveloped stretch of Lake Erie shoreline remaining in Pennsylvania. The park has one mile of shoreline, 90 foot bluffs overlooking Lake Erie, world-class shallow stream steelhead fishery, old growth forest, rare, endangered and threatened flora, uncommon oak savannah sand barren ecosystem, exceptional value wetlands, and significant archaeological sites. There are currently no facilities in the park. More information can be found here.

"Conservationists Protect State Park Along Lake Erie Shore" - Debra Erdley, Pittsburgh Tribune-Review
Visit Presque Isle State Park
Our most popular local attraction. Featuring ocean like beaches, biking, bird watching, boating, fishing and more!

More information can be found here.
Visit a Local Amusement Park
Visit Presque Isle Downs Horse Racing and Casino
Enjoy live thoroughbred horse racing along with nightly entertainment, dining, and slot machines.
For more information, click here.
Visit Niagara Falls
The many attractions of the Falls are only about 1½ hours away. For more information, click here.
Explore Local History
Local Auto Race Tracks
Other Popular Erie Attractions
Local Events