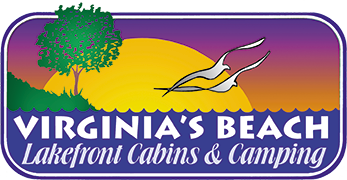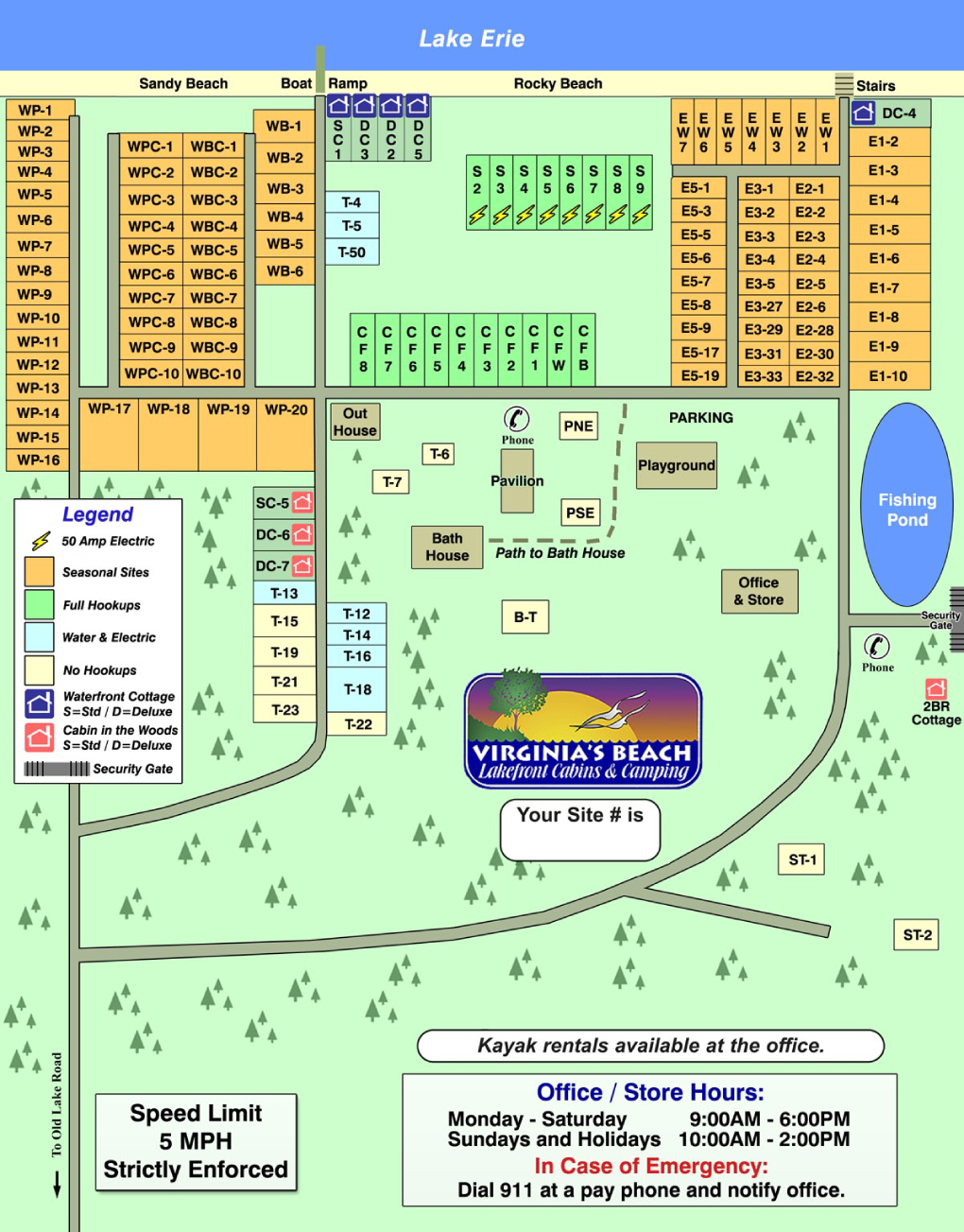 Please click on the site map above for a downloadable version of our map.
Safety Policies
In case of emergency dial 911 at one of the pay phones and notify the office.
Speed limit is 5 MPH and is very strictly enforced. Any drivers that cannot adhere to this after 1 warning may be removed from the property.
Swimming in the Lake is at your own risk. There are no lifeguards. We suggest using personal floatation devices at all times. Parents must accompany children at all times. Please view About The Beach page for more information.
The Lake is very unpredictable. We suggest that when boating that you use caution and come to shore at the first sign of storms and large waves. Please view our About The Lake page for more information.
Parents are responsible for the safety and actions of their children. Children under 18 are to be at their registered sites by 10:00PM unless accompanied by a parent.
The playground is closed at dark.
Small children must be attended to at all times.
Parents are not allowed to leave children under 18 alone when they leave the campground.
Parents must accompany children at the beach.
Bicycle riding is allowed during daylight hours only. Children under 12 are required to wear helmets, this is a state law.
Unlicensed motor vehicles of any kind are not permitted on the property. Golf Carts, Dirt Bikes, Go Carts, Mini-bikes, ATVs, or motorized skate boards are not permitted.
Fireworks and firearms are prohibited.
General Policies
21 years is the minimum age to rent or reserve a camp site, or cottage / cabin.
Because we try to be sensitive to all campers' expectations and concerns about crowding, we may suggest that you rent additional camp sites if you expect to have a large group. If you have unexpected additional adults upon arrival, they may not be able to stay at your site. See the camping rates page for site occupancy limits.
Camper of record must check in before extra adults or guests will be allowed to enter.
Refunds are not given for early departure if site was reserved. Rain checks are not given.
Check in is between 3:00PM - 9:00PM daily. Checking in and setting up after dark is disruptive and unsafe. If you can't arrive before dark, we recommend coming in the next morning. Check ins after 9:00PM may be required to park in overflow area and dry camp overnight.
Check out is 2:00PM for camping sites, 12:00PM for cottages and cabins. You are expected to leave the property at check out time. If your site is available, you may stay until 5:00PM for a late check out fee of $20.00 for campsites.
All visitors must register at office and pay a fee. The office must be notified prior to off street visitor's arrival. Visit must arrive during office hours. The number of guests / visitors on sites may be limited. All visitors must leave the property by 9:00PM.
Visitors are not allowed to bring pets.
Management reserves the right to refuse access of the property to anyone for any reason. Anyone disobeying the rules, intoxicated, acting erratically, or creating a disturbance with other campers or management will be removed immediately.
Do not move fire rings. Please be aware of the fire rings when parking and backing up. You will be responsible for the cost to replace any fire rings that you damage.
Removal of large rocks from the beach is prohibited. If you pick up small rocks, please do not leave them in the grass.
Screen tent usage may be limited based on location and site usage.
We value our trees. Cutting, chopping, scraping or any other type of damage is not allowed. Parents, please monitor your children when there is a hatchet on the campsite.
Campground Manners
At Virginia's Beach we try very hard to ensure a quiet and peaceful camping experience for all. Our quiet time is 11:00PM - 8:00AM. If you believe there is a chance that your group may be disruptive in any way, please consider camping somewhere else. We will not hesitate to remove a group of any size from the property at any time, day or night if there is a problem.
Noise, disorderly conduct, drunkenness or obscene language will not be tolerated. Loud music is not allowed at any time.
Campfires must be out by 1:00AM, unless your are on a selected, secluded site.
Please do not cut through camp sites. Parents are responsible for keeping their children off other peoples sites.
Please be considerate of your neighbors and clean up after yourself in the bathhouse. We clean regularly but it only takes minutes of inconsiderate behavior to mess it up.
If your neighbors are being discourteous or inconsiderate, please notify the office.
Any indecent and/or inappropriate behavior, or activities deemed as such by the Management, will not be tolerated. Any illegal behavior will be reported to the State Police immediately.
Pet Policies
At Virginia's Beach we take our pet policies very seriously. Please print, complete our Pet Policy Agreement, and present it at check-in, if you intend to bring a pet.
Pet owners must remove waste immediately. When walking dogs, pet owners must carry a bag to pick up waste. Any pet owner that is observed not picking up after their pet will be removed from the property without refund. Please ensure that children walking the dog are aware of and willing to comply with all pet policies.
We do not allow dogs on the beach, for sanitation, and safety reasons. It is against state law to have dogs in swimming areas, If you would like to take your dog to the water, they do allow dogs on certain beaches at Presque Isle State Park. You can ask at the office for other possible options.
2 dogs are permitted per site.
Pets are not allowed at cottages or cabins.
Pets are permitted if on a leash at all times. This is a state law.
Pet owner must provide proof of current rabies immunizations upon arrival.
Pets must not be left unattended. If pets are tied up, they must be tied up on your site, not in common areas.
Barking and/or aggressive dogs are annoying to other customers, and if your dog barks excessively you may be asked to leave.
Dogs are not allowed within 50 feet of the playground.
Unlicensed motor vehicles of any kind are not permitted on the property. Golf Carts, Dirt Bikes, Go Carts, Mini-bikes, ATVs, or motorized skate boards are not permitted.
Dogs which have bitten or attacked other dogs or people are not permitted on the property.
Enjoying Your Stay
We understand that it is important that where you decide to spend your vacation time meets your expectations. We want all campers to have a pleasant, relaxing and safe experience, and we make every attempt to ensure that will happen. The vast majority of people who visit us have a great experience, but on rare occasions, campers are unhappy. Please review this information, to help you make your decision.
The enforcement of our rules and policies:
Most of our guests appreciate that we enforce our rules and policies. We feel that our rules and policies are just common sense, and are necessary for the safety and enjoyment of all. Sometimes people are not happy that we enforce the rules and policies that we publish on our website. We hope that all campers read and accept our rules and policies prior to making a reservation. A copy of the rules and policies is given to all campers on arrival.
Cancelations and refunds:
Please read our policies before you call for a reservation. We adhere to our policies to be consistent and fair to all customers, so please do not ask us to make exceptions. We do not give refunds for early departures if a reservation is made. If you want to be able to get a refund for early departure, or if you do not agree with our reservation policies, you can always camp without a reservation, if a site is available.
Late check-in:
Checking in after dark can be dangerous, and is disturbing to other campers. If you think that you may arrive after dark, it would be best to come the next morning, please do not ask us to make an exception. Late night check-ins are not allowed, although, if you call ahead we may let you park outside the gate and register in the morning. If you are expecting members of your party to arrive late, you will have to meet them at the gate and let them in.
Our Beach and boat ramp:
We have a complete description of our beach on this website, most people have a great time at the beach, but sometimes people do not read the description and are disappointed. Our pictures show the beach as it is most of the time during the summer, but it may be rocky when you get here. Our launch ramp is suitable for most boats up to 18ft, a 4 wheel drive vehicle is recommended for launching. The lake level fluctuates; if the level is low launching may be more difficult.
Our Bath house:
The bath house is intended for use by tent campers, and those who do not have bath rooms in their RV's. It is cleaned and maintained regularly, but the condition depends on how many people are using it, and how considerate they are. We are very responsive if notified that there is a problem, or if cleaning is necessary between normal maintenance. If you are planning to use the bath house please consider that it is a public facility, if you would prefer more privacy or would like to have more control over conditions, we rent cabins and cottages, or you could bring an RV.
Camp sites:
We make every effort to give an accurate description of our campsites including sizes, pictures, and location in relation to the bathhouse. We encourage all prospective campers to view all of our information and inspect our facilities prior to camping.
Changing sites upon arrival:
As a courtesy, we may ask at check-in if you would like to change your site if we notice that an upgrade is available. We do this especially when it is your first visit. You can also ask for this, if available we are happy to do it.
Our electric service:
All of our overnight RV camping sites have updated 30 or 50 amp electric services. Although we rarely have a problem, sometimes breakers will cut out under heavy loads, and it is necessary for us to reset them. Our electric service is monitored to ensure adequate voltage. At times, power company voltage has been below standards, when this happens it is usually corrected quickly.
Our water pressure:
We have a gravity fed water system, and while our pressure is normally adequate, sometimes during busy times it can be low on some sites. Campers that prefer higher water pressure will sometimes use their on board tank and water system. Inline water filters in RV's can reduce pressure. Our water is clean, filtering is normally not necessary. Larger trailers and motor homes can sometimes have problems with pressure that is adequate for other units. Our bath house and nearby sites are not affected by pressure fluctuations.
Behavior issues with other campers:
Besides our safety policies, the most important rules we have are the ones that are in place to provide an enjoyable and relaxing experience for all. Management rarely enters the camping areas, except when necessary for regular maintenance and nightly security tours. Unless we hear excessive noise we assume everyone is being conscientious of their neighbors. We encourage campers to let us know if something is making them unhappy, so that we can correct the situation.